News
Since about 1965, Sonia has been in touch with her British friend, Dr. Margherita RendelI, a former lecturer at the University of London and a barrister.
In 1972, Margherita invited Sonia to come to the U.K. to present testimony before a Select Committee of the House of Lords on the American experience with Title VII of the Civil Rights Act of 1964. Two weeks before her scheduled departure, at a time when three-quarters of her testimony had been completed, Sonia was stricken with back trouble and hospitalized. Her feminist friend, Catherine East, came to her bedside at the hospital, and the two of them completed Sonia's testimony, which Catherine delivered to the Select Committee.
After that, all that Sonia knew was that the legislation under consideration subsequently was enacted in England.
On Christmas morning of 2014, Margherita sent Sonia the following additional information.
"We have been wholly taken up with remembrances of the First World War. I'm glad you have been celebrating something much more cheerful - The Civil Rights Act of 1964 - which gives me the opportunity to say again how much you helped me in 1971-72 when I was preparing my evidence to the House of Lords Select Committee on the Anti-Discrimination Bill. You were going to come to give invited oral evidence, but were in hospital with your back and Catherine East came in your place. The evidence we gave, based on U.S. experience, made a really important difference in this country and in particular changed the Conservative members of the Select Committee to realising that sex discrimination could work and they so reported and that meant that the Conservative Govt no longer opposed the idea.  The Labour Govt elected at the Election which soon followed implemented the Sex Discrimination Act 1975 which was the model for the Race Relations Act 1976. "We have subsequently had a Disabilities Discrimination Act and various other measures and various European Union equality Directives and European Court decisions.  The various bits of legislation etc. have now been tidied up into the Equalities Act 2010 which is a great fat A4 volume of 218 Sections and 28 Schedules. . . . "
---
Sonia is pictured in this Facebook notice about Jennifer Lee's film, Feminist: Stories from Women's Liberation.  She is in the center of the first row flanked by Gloria Steinem and Heather Booth.
Sonia's memoir included in Holocaust Remembrance Day program, April 27, 2014.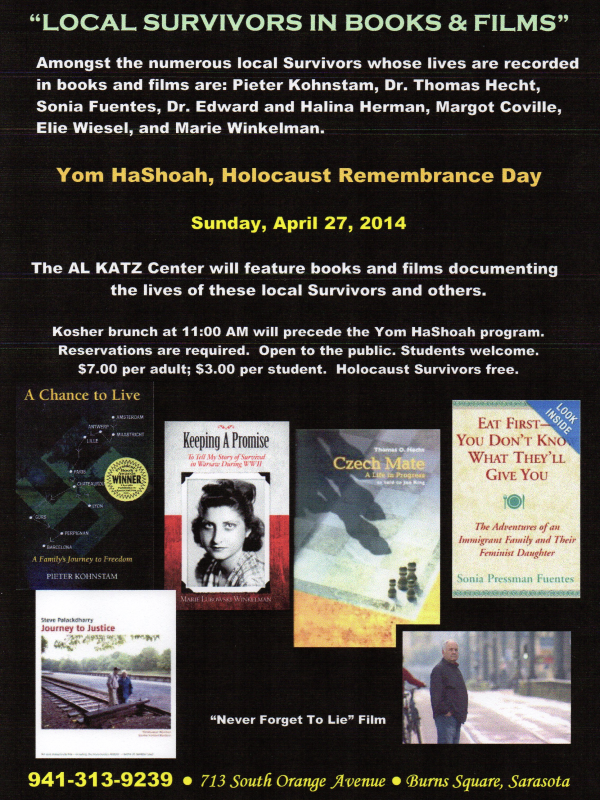 ---
Sonia's late brother, Hermann Pressman, began keeping a diary on his 18th birthday in Berlin, Germany, on July 21, 1932, in German shorthand and kept it thereafter in Berlin; Antwerp, Belgium; and the Bronx, NY, where he concluded it on Nov. 29, 1935.  He subsequently translated it into English, with the help of his granddaughter, Debbie Linick.   The English translation runs 668 pages.  The German original and the English translation were donated to the U.S. Holocaust Memorial Museum.
Steven Lasky, who started and maintains the online Museum of Family History, edited the diary and the edited version is available at the Museum's Web site.
---
The book, Jews of Sarasota-Manatee, by Kim Sheintal (Arcadia Publishing, Feb. 2013), contains a 2002 photo of Sonia in front of a sign about the Jewish Genealogical Society (JGS) of Southwest Florida (p 25). Sonia gave a talk to JGS on March 2002.
To see Sonia's  photo, go to arcadiapublishing.com. You will see a photo of the book cover. Under that are the words "Search Inside," click on that, then type in "Sonia Pressman Fuentes."
---
On May 17, 2011, the Veteran Feminists of America saluted Sonia.
---
Sonia answers questions dealing with women's rights and women's history on allexperts.com and on a blog for women in science (www.scitable.com).
---
Finding Aid for Fuentes papers, CDs, audio- and videotapes, Schlesinger Library, History of Women in America
The Schlesinger Library on the History of Women in America, which has the largest collection of Sonia's CD's, videotapes, and audiotapes, has organized them and this finding aid is online here.
---
Summer 2008: Congratulatory letters from the presidents of Cornell University and the University of Miami (FL)
---
From July 2008 to mid-April 2011, she served as a Commissioner of the Sarasota Commission on the Status of Women.
---
Sonia was honored October 30, 2007, by the Veteran Feminists of America (VFA) at a program at the headquarters of the National Woman's Party, the Sewall-Belmont House, in Washington, D.C., as one of one hundred forty pioneer feminists who lived or worked in the Washington, D.C., area from 1963-1975 and made significant contributions to women's rights. She was honored by VFA again at a June 9, 2008, program at the Harvard Club in NYC as one of thirty-six feminist lawyers, including U.S. Supreme Court Justice Ruth Bader Ginsburg, who made significant contributions to women's rights in the 1963-1975 time period.
---
Sonia was one of forty-nine men and women who founded NOW at two meetings in Washington, D.C. in June and October 1966.  A picture taken at the October 1966 meeting is here.  Not all those in the picture were founders.
For several months beginning at the end of 2009 and continuing through the early part of 2010, Sonia did research on the founders of NOW as there was no definitive information on how many there were, who they were, and how many of them survived. On March 10, 2010, her article on her conclusions entitled, "The Founders of NOW," was published on the community blog of feministing.com
Sonia concluded that there had been forty-nine men and women who founded NOW at meetings in June and October 1966. The largest number of founders (fifteen) came from the Washington, DC, area (Washington, DC; Virginia, and Maryland). New York State was next with thirteen, and Wisconsin third with eight.
In July 2012, Sonia decided to update her 2009-2010 research. Her conclusions as of July 31, 2012, forty-six years after the founding of NOW, were that there were nine surviving members (18% of the founders), the oldest of whom, Mary Lou Hill, would turn ninety-five in the fall of 2012. Next was Dr. Carl Degler at ninety-one.
Dr. Carl Degler died at the age of ninety-three on December 27, 2014.  Sonia has not updated her research since 2012 but if no other founders have died since then, that leaves eight surviving founders of the original forty-nine.
Information on NOW's founders and early strong supporters, much of which is based on Sonia's research, is available on NOW's website.
Sonia discusses the founding of NOW in a YouTube video. This interview was conducted by filmmakers Jamie Spooner and Carolyn Mayes (whose website is icarevillage.com) in February 2010.
---
The Museum of Family History has textual material and photographs about Sonia and her family. To access it: go to the website, type "Sonia Fuentes" in the Search rectangular box on the right-hand side at the top, click "Search" and if the box titled "Site Search" appears, click on that.
---
Sonia was featured in the August 5, 2004, issue of the University of Miami Alumni E-Newsletter (she is an alumna of the law school) as follows:
Featured Alumna Sonia Pressman Fuentes Leader of the Women's Movement Isn't Slowing Down
For most immigrants fleeing Nazi Germany in the early 1930's, America was a land of freedom and opportunity that usually came with the price of hard times and hard work that left little room for philosophical or social conviction. Not so for Sonia Pressman Fuentes, JD '57, who even today is continuing to work hard in support of her convictions. Fuentes is one of the most lively and active feminist public speakers and authors today, not allowing herself to rest on the laurels of her past accomplishments or slow down in the twilight of her life. From being the first female attorney in the Office of General Counsel at the Equal Employment Opportunity Commission to being one of the co-founders of the National Organization of Women (NOW), Fuentes continues today to be driven and energetic in her pursuit of women's rights. Recently, Sonia has been traveling the globe and continuing her experiential education in culture, society, and the arts. She has also spoken on behalf of candidates supportive of the women's movement, and will be featured in an upcoming documentary by Jennifer Lee regarding a revival and the second wave of the women's movement. Her memoir, Eat First. You Don't Know What They'll Give You; The Adventures of an Immigrant Family and their Feminist Daughter continues to be a popular and inspirational selection for all people in all walks of life...
---
The first screen of the online exhibit of the Jewish Women's Archive entitled "The Feminist Revolution," shows a picture contributed by Sonia taken at the organizing meeting of NOW in the basement of the Washington Post building on Halloween weekend in October 1966. Sonia is seated one seat away from Betty Friedan, who is seated at the end of the front row on the right.
This exhibit includes seventy-four Jewish women who contributed to women's rights in the U.S. Sonia's write-up is here.
For the Washington Jewish Week article on the six Washington, D.C., area women included in the exhibit, click here.
---
"Sonia Fuentes writes about an unexpected range of subjects, yet somehow they remain always linked to her roots in the Yiddish world of Eastern European Jews. Once that is understood, the traditional interconnections between her several worlds make perfect sense as one woman's reflection on the ways in which family, society, culture, and political engagement have always lived in creative tension--whether in the world of Fuentes' forebears or in the exciting one of our own." -- Tom Freudenheim, then-Deputy Director, Jewish Museum, Berlin, Germany
---
"I love your book. It arrived yesterday, and as I began to check it out, I couldn't stop reading it. The business of Jewish geography really got to me. As a rather unreconstructed, chauvinist Jewish girl from Milwaukee, I have played the 'Do you know' game all my life. Often with great success and pleasure. Thank you for sending the copy to us. I am so pleased to have it for our collection." -- Barbara Haber, Curator of Books, Schlesinger Library on the History of Women in America (at Radcliffe College)
---
An excerpt from Eat First, called "Coming to America," is included in the anthology Matzoh Ball Soup, A Collection of Personal Stories, Poems, and Rabbinical Sermons That Inspires the Jewish Spirit, by Oliver Kramer and Joshua Kramer, published in November 2002.
---
Eat First was required reading in the spring 2000 semester in the School of Industrial and Labor Relations at Cornell University in a course on writing about minorities (including women) in America. Ms. Fuentes gave talks to two classes at Cornell in April 2000. In the spring 2001 semester, Eat First was required reading at American University in Washington, D.C., in a course on Writers in Print and in Person.
In 2000, Sonia lectured on "How Being an Immigrant Shaped My Life" at Cornell University and thereafter gave varying versions of that talk at other venues. Articles on that subject have appeared in: 120 HIAS Stories, a book published to commemorate the 120th anniversary of HIAS (Hebrew Immigrant Aid Society) (July 2002), Women in Judaism, a Multidisciplinary Journal (April 2006) (available in html and pdf formats), the Sarasota-Manatee Jewish News(January 2007), the website of the Museum of Family History, and Der Bay, the newsletter of the International Association of Yiddish Clubs (Vol. XX, No. 1, Jan. 2010).
---
Ms. Fuentes is also included in Women of Achievement in Maryland History, a reference book published in October 2002 and distributed to public and private schools, libraries, religious institutions, and private service organizations in Maryland.
Eat First was recommended in May 2000 by Ofrah's Jewish Book Club. Click here to read the review.
Eat First is one of the listed books for the Women's Institute for Freedom of the Press.
There is a 7-part piece entitled "The Making of a Jewish American Feminist: Sonia Pressman Fuentes," about Eat First and Ms. Fuentes at About.com.
Fuentes was one of nine authors who have published e-books who were profiled in the May 2001 issue of Publishing Success, a publication of the Writer's Digest. Click HERE to read the interview online.
You can read a summary of Eat First with excerpts at Sunshine for Women. Sunshine for Women explores women's history, feminist theology, women's contributions to art, music, literature, reproductive rights, global feminism and more. Visit the Sunshine for Women homepage for a list of features.
On October 12, 2001, Sonia gave the keynote address at the 20th anniversary celebration/retreat of the Women Lawyers of Utah in Deer Park, Utah. Her talk. "The Women's Rights Movement: Where It's Been, Where It's At" is on a website for professors, researchers, administrators and librarians of women's studies programs.