-
Belgium/Red Star Line Index
Belgium and the Red Star Line (RSL) Museum
The Red Star (shipping) Line (RSL) operated from the beginning of 1873 through some time in 1934. During that time, about two million passengers left the line's main port of Antwerp, Belgium and other European ports for ports in the U.S. and Canada, about a quarter of whom were Jews. Sonia, her parents, and her brother boarded the line's S.S. Westernland II on April 20, 1934, and arrived in New York City on May 1,1934.
In September 2013, the RSL Museum was opened dedicated to the RSL and immigration. Sonia was the only surviving passenger of the RSL who attended the week's opening festivities.
On May 27, 2019, Lien Vloeberghs, a historical researcher for the RSL Museum, emailed Sonia in response to her inquiry, and told her she is one of two surviving passengers of RSL ships of whom the museum is aware. There are two other people who think they may have travelled on RSL ships as children from the U.S. to Europe, but the Belgian passenger lists of arrivals that could verify their claims are not in existence.
See The Jewish News of Sarasota-Manatee (Vol. 41, No. 2, Feb. 2011) for an article about the Pressman family and the RSL Museum.
On Aug. 6, 2011, Philip Heylen, then-Antwerp's vice mayor for culture, tourism, and public worship gave a talk entitled "Antwerp to America: The Red Star Line and Jewish Immigrants," which focused on Sonia's family, to Sonia's congregation, the Congregation for Humanistic Judaism, in Sarasota, Fl. Sonia arranged for him to give this talk and introduced him to the congregation.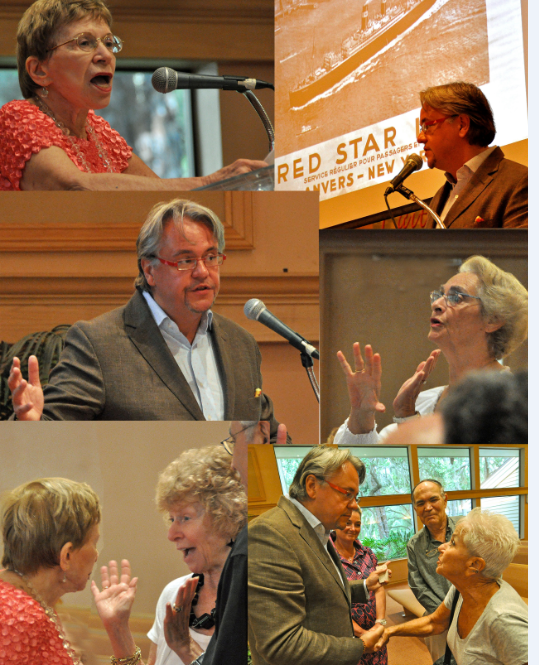 The Red Star Line Museum's website is at http://www.redstarline.be/en. Read about Sonia and her family on that website.
Click here to read Sonia's speech at the international press conference on Sept. 24, 2013, in connection with the opening of the RSL Museum. Sonia was the only surviving RSL passenger present at the week's festivities in connection with the opening of the Museum.
The Red Star Line Museum is a member of the International Coalition of Sites of Conscience and is mentioned on its website at:  http://www.sitesofconscience.org/
Sonia Pressman Fuentes
The Oct. 17, 2014, issue of Deus Ex Machina, a literary magazine written in Flemish and distributed in Belgium and The Netherlands, included two excerpts from Sonia's memoir, "Accidental Birth" and "If You Speak His Language," and three pictures of Sonia—with her parents and brother, Hermann, in Berlin, Germany; alone in her toy car; and with Hermann in the City Park in Antwerp, Belgium.
Click on the images to enlarge.